aidio is a new app for macOS, iOS and Android which lets you easily convert text to speech or transcribe audio using advanced audio AI systems.
To do this, aidio provides a simple and powerful interface that connects to your accounts on AI services such as OpenAI, Play.HT and Elevenlabs. Just enter your API keys from your services' profile pages and you're ready to go.
While Elevenlabs and Play.HT deliver stunning results in a huge variety of voices and accents (even in their free plans), OpenAI's six voices also sound great while being drastically cheaper than the other services one you reach the limits of the free plans.
Here are some examples of conversion results:
What makes aidio great?
Connect to multiple services and easily switch between them to find the best results and voices for your copy.
Take advantage of each service's growing voice catalog and quality or speed options.
Use your current plans (free or paid) of your services and save yourself from yet another app subscription. Aidio itself is a one-time purchase without in-app subscriptions.
Transcribe audio from an audio or video file and export the result as plain text, json or a subtitle file.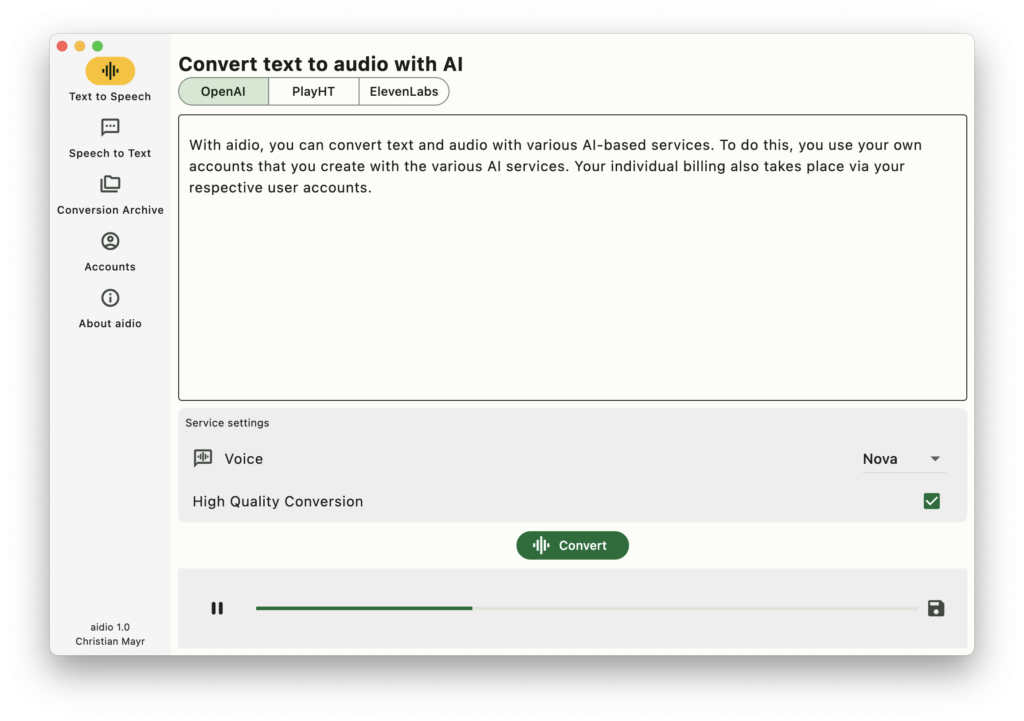 Connect one or multiple AI services
aidio does not offer AI services itself, it lets you connect to 3rd party services!
To use aidio, you must provide data from your accounts on AI services such as OpenAI, Play.HT and Elevenlabs. You can find the neccessary API keys in your services' profile pages. Links are provided in aidio.